Spring has sprung …. fiddleheads & ramps are here!
Fiddleheads sprout mid to late April and the window of availability is short so it is important to buy them as soon as you see them. After numerous stops to the market, I was so excited when the fiddleheads finally arrived at the market. I did have a difficult time buying a good batch this year, hence the late in the season post.
Now you are probably wondering, why would I want to eat them as they are quite strange looking. Simply put - they are easy to prepare, delicious, and you will impress any of your guests when you serve them because of their unique look and taste! Fiddleheads are best compared to asparagus with a grassy, earthy and delicately sweet taste.
What are fiddlehead ferns?
Fiddleheads come from the Ostrich Fern (Matteuccia struthiopteris) known locally as the fiddlehead fern throughout New England and parts of Canada. They grow wild like dandelions and mainly in wet areas near brooks, rivers and lakes during late April, May and early June, dependent on when the snow has melted.
When purchasing fiddlehead ferns, look for tightly coiled, bright green ferns and avoid ones that have a dark colored center as this indicates them being older.
I recommend using them as soon as possible but if you do have to store them, clean first and place them in a tightly sealed plastic bag to avoid drying out, storing them in the refrigerator for only a few days. Storage can be prolonged to 3 weeks in the refrigerator by submerging them in cold water, with a change of water every 2 -3 days. And if you really want the taste of fiddleheads in the fall/winter, they can be blanched, dried and placed in a plastic freezer bag for up to 9 months in the freezer.
To clean, put them in a bowl of cold water, and rub away the the papery brown husks. This is probably the most time consuming part but well worth the task. The stems are edible but I usually trim them down so they are under 2 inches in length.
They are best prepared by blanching or steaming first and then a quick sauté with garlic & oil. It is not recommended to eat them raw as they may contain contaminants that can make you feel ill.
And yes, fiddleheads are good for you! They are a source of omega-3's, contain 2x as many antioxidants as blueberries and are loaded with fibre. A 1/2 cup serving will fill you up quickly.
Ramps ... another spring time favorite!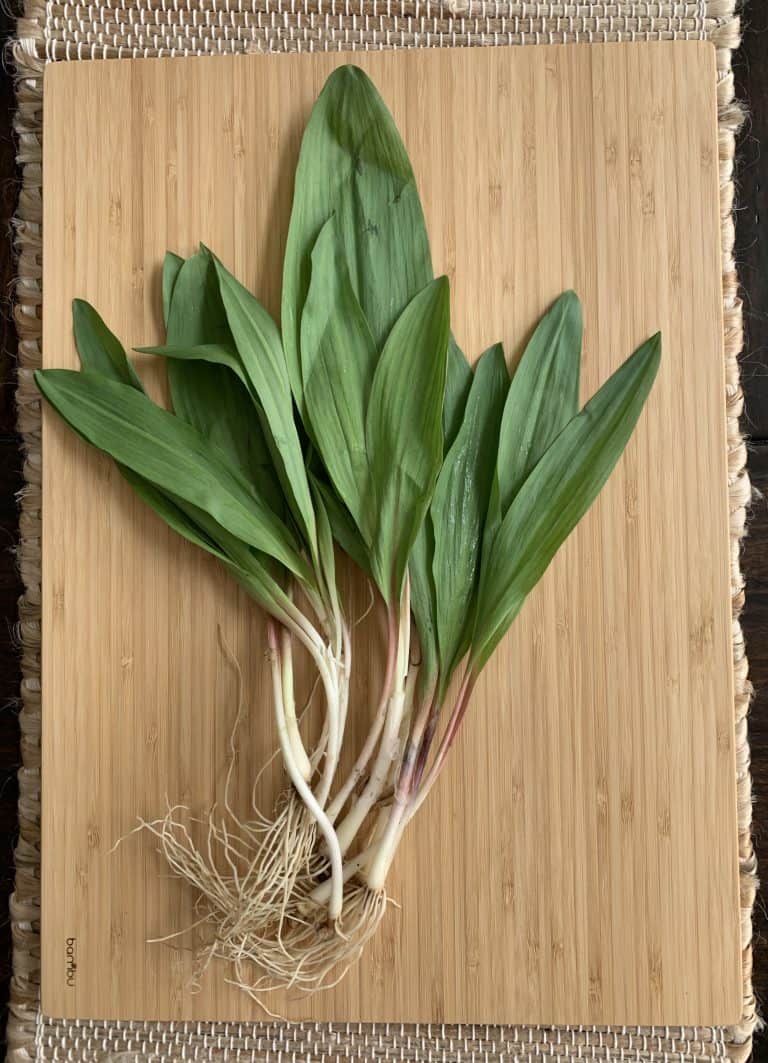 I love the flavor of ramps! They taste stronger than a leek, which generally has a mild onion flavor, and are more pungently garlicky than a scallion. You can use them anywhere you would use scallions or spring onions.
Ramps are a North American species of wild onion and are grown widespread across eastern Canada and the eastern United States.
Why do chefs get so excited about ramps?
It's probably the anticipation for something that has become popular and the season is short - hence quantities are limited. They are a bit pricey too running as much as $20 per pound or $5 a bunch.
Just like fiddleheads, use them shortly after purchasing so they don't wilt. It would be terrible to miss the boat on using them while they are vibrant, green and fresh!
They are quite dirty so be sure to clean them well. I recommend trimming the root tips off and gently rinsing them under running water getting in between the crevices where all the mud likes to hide. Then gently pat them dry with paper towels.
Pair these 2 beautiful spring gems together for a real treat!
Print
Fiddleheads & Ramps Sauté
Author:

Prep Time:

15 min

Cook Time:

15

Total Time:

30

Yield:

2

-

4

side servings

1

x

Category:

Sides

Cuisine:

American
---
Description
Fiddleheads & Ramps lightly sautéed with shitake mushrooms and red & yellow peppers 
---
Scale
Ingredients
4 oz fiddleheads
4 - 6 oz bunch ramps
1/4  red pepper
1/4  yellow pepper
2- 3 large shitake mushrooms
2 cloves of garlic
3 tbsp olive oil
---
Instructions
Clean & trim the fiddleheads - leaving 1 - 2 inches of the stem.
Clean & trim the root tips off the ramps and gently pat them dry with a paper towel.
Cut the red & yellow peppers into cube size chunks.
Trim just a little off the tip of the shitake mushrooms (only the dirty part - not losing too much of the stem), slice the mushroom & chop into smaller pieces.
Heat 2 tbsp of olive oil in a non stick pan and add mushrooms. When slightly browned, add the peppers, garlic and s & p to taste. Cook for 5 minutes. Remove from the pan & set aside in a bowl.
Steam the fiddleheads for approximately 5 - 7 minutes until tender crisp. (*While steaming fiddleheads - start sauté of the ramps)
Add 1 tbsp of olive oil to the same pan and place the ramps in the pan. Move them around gently in the pan to keep them whole while cooking for about 2 - 3 minutes until wilted.
Add the steamed fiddleheads and cook until warmed. Add s & p to taste. Remove from the pan and plate with peppers & mushrooms mixture sprinkled over the top.
---
Notes
I recommend to have this as a side dish with grilled fish or marinated grilled tofu.
Keywords: Fiddleheads, Ramps, Vegetarian Side Dish